Below, Featuring a post on Nairaland by TonyeBarcanista, A Public Relations professional and Socio-Political Analyst.
I have been following the story between Miss Lotanna Igwe-Odunze aka Sugabelly and Mustapha Audu, the son of the late Chief Abubakar Audu. I have watched the reaction of people especially madam Oby Ezekwesili and Hon Abike Dabiri, and I must say that their position on this matter is illogical, embarrassing and unfair to Mustapha Audu and humanity. Let us look at the issue @ hand.
THE MAJOR LIES IN @Sugarbelly's ALLEGATION:
Lie Number One: Audu Abubakar Was Not The Governor As At 2007/8:
Firstly, the so called accuser @Sugabelly alleged that the late Audu Abubakar condoned the 'ficticious' rape just because he was the Governor of Kogi state. This is very far from the truth because Audu Abubakar was elected Governor in 1998, and served between 1999 and May 29, 2003 when he was defeated by Alhaji Ibrahim Idris, who served from 2003 to 2011. He couldn't have used the office of Governor to condone rape when he wasn't the Governor then. In fact, he never ascended to the office after 2003 till his unfortunate demise.
Lie Number 2: False Claim of Friends Gang rape:
I had to read the email exchange between miss Sugabelly and Mustapha, on this said FB message, she was the one apologising to Mustapha Audu for FLIRTING with Audu's friend. From the tone of the message, one will see that Mustapha was the jealous type that got angry because Sugabelly was flirting with his friend. (See paragraph two of the screenshot)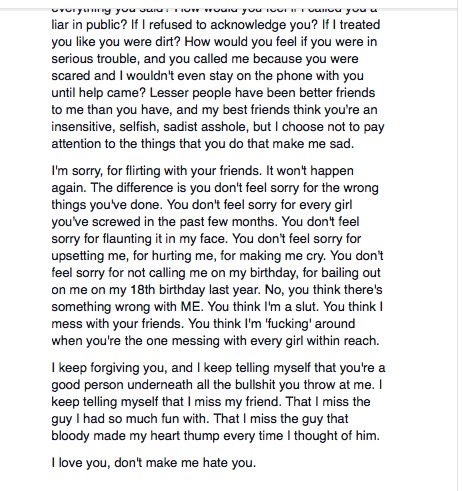 So where does the gang rape story come from? How can a jealous BF allow his friends to have canal knowledge of his GF?
Lie Number 3: False Claim of Rape:
In one of the mails @Sugabelly sent to Mustapha, she was recounting their "sweet memories" and when you look at one of their memories, you will see that both of them had consensual romp and sex. In fact, she was excited recalling some hot memories…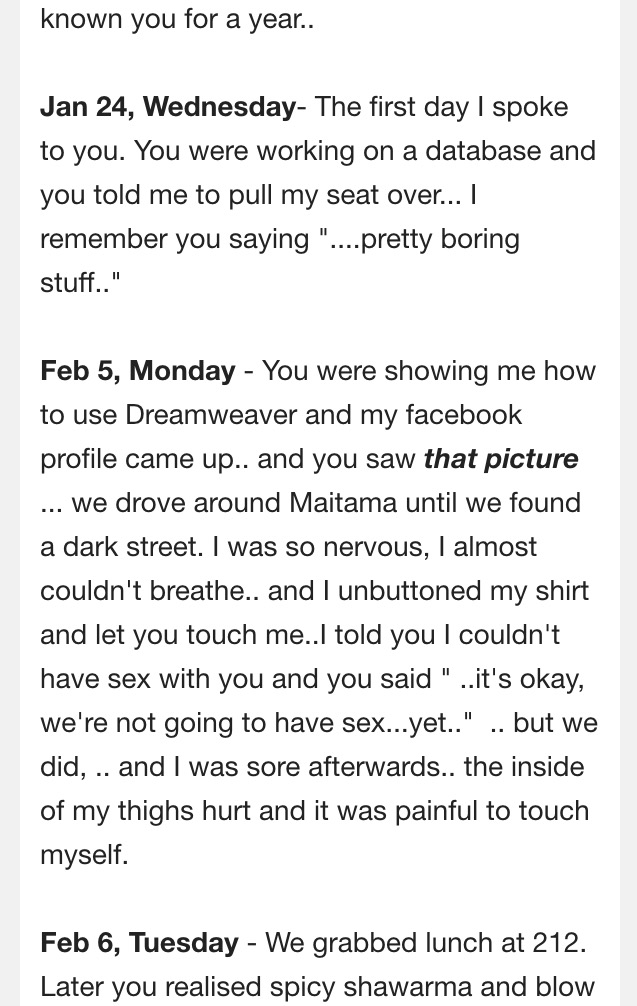 She even talked about their crazy street sex that they had everynight at different streets…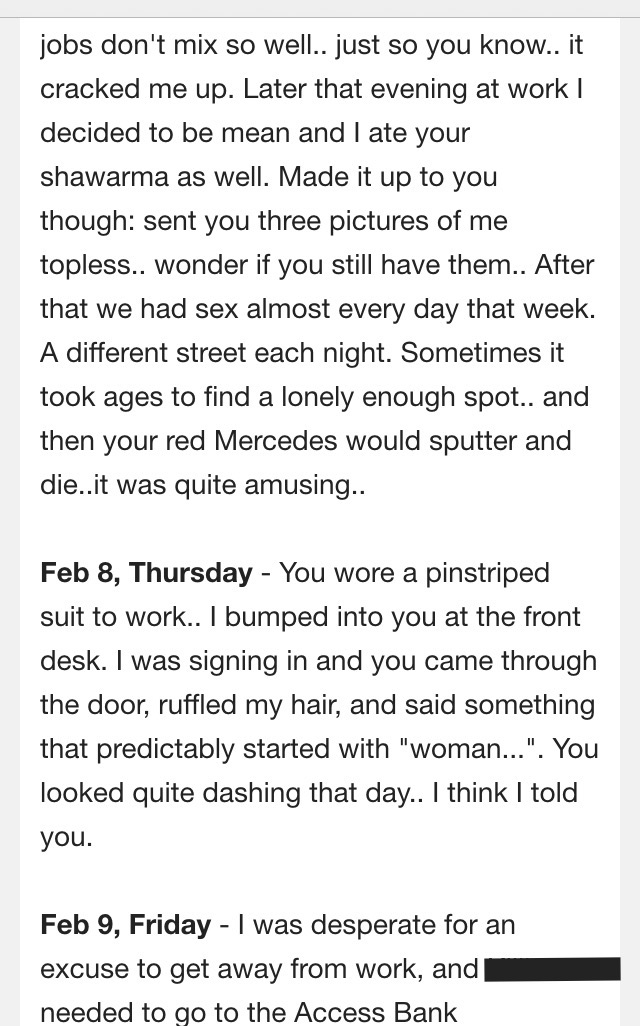 See what she said after their first sex…
@Sugabelly's Mum Was Aware of The Relationship:
While many erroneously assumed that Mustapha Audu took advantage of the Sugabelly of a character, the truth is that her mother was very much aware of their relationship. In the mail sent to Mustapha by Sugabelly, she made reference of her mom not being happy with Mustapha. Pls see…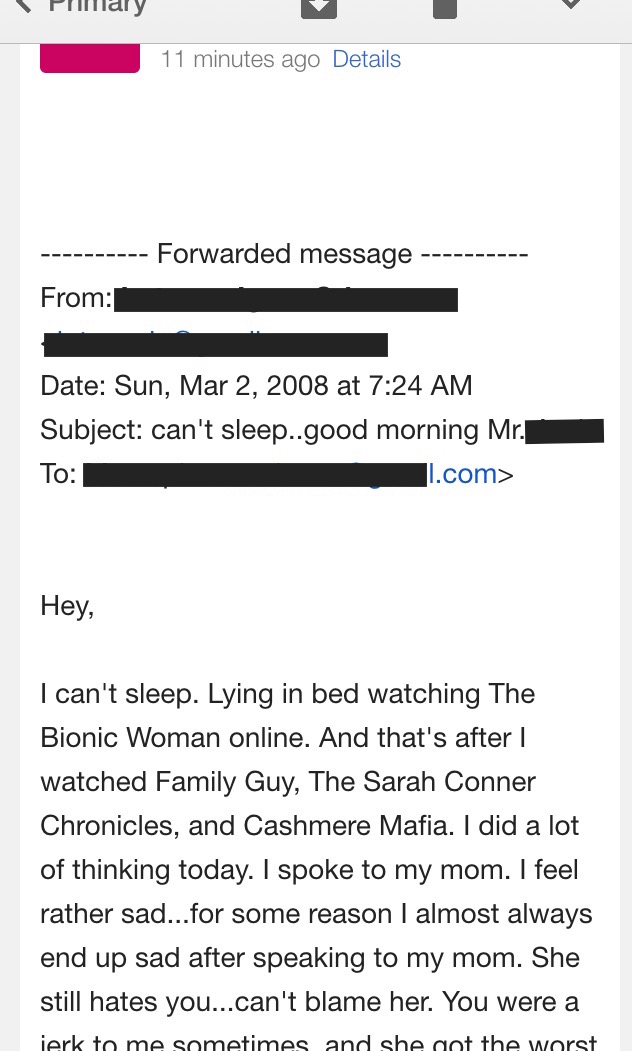 Pray tell, was this a relationship or rape?
Mustapha DUMPED Her Because He Didn't Trust Her:
From one of her plea email for a comeback to Mustapha, the so-called rape victim even admitted that Mustapha didn't trust her, and was trying to appeal to his emotion for his trust. Maybe he was right not trusting her with her baseless allegation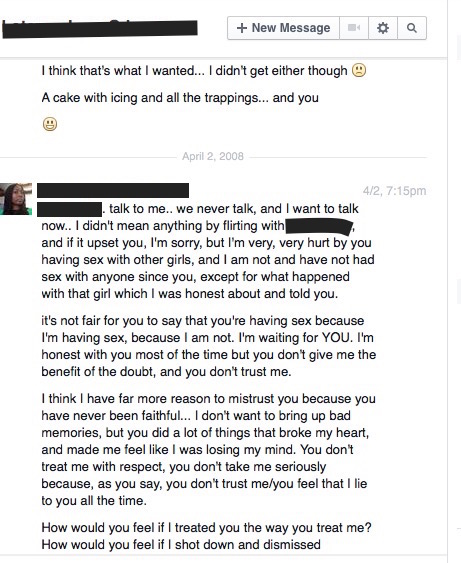 Please, does relationship turn sour equate rape? Why victimise an innocent man that is mourning his father?
Concluding…
I put it to @Sugabelly that she was never raped but only trying to blackmail a man that she once loved after all her plea for a comeback failed.
I put it to Madam Oby Ezekwesilli and Hon Abike Dabiri that they are embarrassing to the HIGHEST order for taking a position without a holistic probe of the event. I put it to Oby that she's an hypocrite raised to power ten for knowing the truth and concealing it in order to blackmail an innocent man that is mourning the death of his father just because she's a friend to @Sugabelly's mother.
I am proud and happy to take the time and pains to put this up for the cause of defending an innocent man.
For the record, I wasn't paid nor hired to do this. My love for justice motivated me.